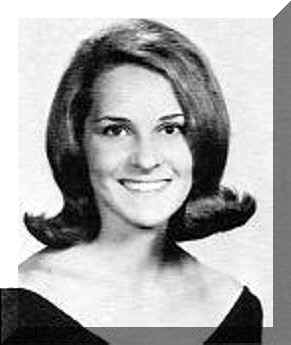 Hi everybody or as they say down here, ĎHey yaíllí.
Well, shortly after graduating, I married Ron Voss, who I dated my last two years of high school. In fact, he gave me an engagement ring the night of our Sadie Hawkins Dance with "Marryín Sam".
He was in the Navy on the SSN 589 Scorpion Submarine based in Norfolk VA, where we lived for one year.
In June í68 he and ninety-eight other fine young men never returned home. They were lost at sea.
I left my job in Norfolk and started working for Eastern Airlines. I lived in Miami then transferred to Chicago OíHare, where I was based.
Life in Chicago was great, but lonely. It was solitary not by choice, but because of the fast pace. So, I called a friend in Virginia and we decided to meet and relocate to Jacksonville FL.
I wasnít in Jacksonville long before Mike Newman and I became closer friends. I say closer friends, because he was Ronís best friend on the submarine. Mike finished his service in the Navy weeks before that last fatal cruise.
Mike was now a helicopter pilot in the Army. (I know that sounds unusual.) We were married and moved to Savannah GA. We lived a few other places, but returned and settled in Jacksonville, FL.
In the mid seventies and eighties, our company, Moringstar Inc., was the largest and highest rated solar collector manufacturer in the U.S. Our company name has since changed to Energy Laboratories Inc., but weíve continued in the solar industry for over thirty years.
Iíve held many jobs, but for twelve years I coordinated national and international conferences at Christian Healing Ministries with Francis MacNutt. I also worked there in other capacities. We taught prayer ministry and counseling offering CEUs. I was privileged to meet some of the nationís finest Christian authors and teachers.
Over the last eight years Iíve worked full time with my husband, Mike, keeping his sunny side up. Our company of ten employees is a diverse business making sogel coatings, sharing a patent with Sandia National Laboratories. In addition to consulting and research and development work, we also manufacture coating lines, tanks, bio diesel, and plasma welders. Oh, itís just tons of fun here. I bet you guys would love to see all the neat machines.
While working full time, for the past ten years I have also been involved with KAIROS, which is an interdenominational prison ministry. Iíve worked in the Federal Womenís Correctional Inst. in Tallahassee, but currently Iím with the Lowellís Womenís Correctional Inst. in Ocala, FL. We facilitate a four day retreat for the residents once or twice year. It is hard sometimes to commit to the hours of driving for the once a month reunions, team meetings, and retreats, but there are few things in life that are more rewarding. I always receive more than I can give.
Mike and I have been married thirty eight years and I love him more now than the day I married him. We have three adult children, one daughter, Heather, 35yrs. and two sons, Ian, 31 yrs. and Glen, 25 yrs. Theyíve always made us proud and I am fortunate that they all live here.
Our oldest, Heather is expecting our second grandchild any day. She also has our two year old grandson, Miles. Glen works full time with us. Ian and Heather join the team on occasion. So, this really is a Mom and Pop business.
Gosh, writing all this down gives me pause. Donít you agree that life has truly gone by fast?
I canít believe like Iíll soon to be 59! Of course there have been hardships, but I will summarize and say that it is well with my soul and I am blessed. I guess thatís pretty much it.
"Come grow old with me . . . the best is yet to be." H. Browning. I just love that quote.
God bless you all and Yeeeha . . . Rock on baby!
| | | |
| --- | --- | --- |
| Barbara Windle Newman | | |
Click your "Back Button" to return to previous page you were viewing.