Danny and Carol Adams Carr

Click link to new family picture dated Aug. 2008


Married Carol Adams from Pattonville in 1970, moved to Dallas, Tx. after graduating from Rolla in 1973. Have two children Jeff 34 and Kelly 32 both live in Dallas area. We travel to St. Louis every Thanksgiving to visit my folks and brother still in St. Ann and Bridgeton.

I am a Senior Project Mgr. at TDIndustries - Mechanical Contractor currently working on the Dallas Cowboys Stadium. Carol and I play competitive tennis together and we have both played on teams that have competed at the National level. Come and see us if you are in the Dallas area!

This is our " 1st Grandchild – Noah Souri, Daughter Kelly and husband Sean, Brother Jeff, proud parents Danny and Carol Carr.

(214) 451-1210 Direct

(214) 793-4229 Cell

(214) 214)451-1200 Fax

Email: DCarr@Balfourbeattyus.com


I was married in St. Louis on Jan. 24, 1970 to high school sweetheart, Danny Carr of Pattonville, who is currently a sales engineer / mechanical contractor. We have lived in the Dallas area for over 30 years. Son Jeff is single with Business degree from TX A&M. Daughter Kelly married and has Advertising degree from N TX State. She & Sean Souri produced our 1st grandchild, Noah, born April 19, 2007. Dog Chloe is 4-yr-old Brussels Griffon. Danny and I play competitive team tennis together. We have both been on national award winning teams.

I had a mural painting business for 9 years in the 80's. I also worked for 5 years as assistant to the chief financial officer of Coca-Cola Enterprises. I have been a top producing real estate consultant for the past 6 years with Keller Williams Realty in Dallas.

We have been blessed in family & careers over the years and look forward to seeing you all at the high school reunion... could it really be 40 years???

Email: carolcarr@kw.com
New Picture: Daughter Kelly, husband Sean, kids Noah and Sophia, Danny and Carol – Dated Aug. 2008: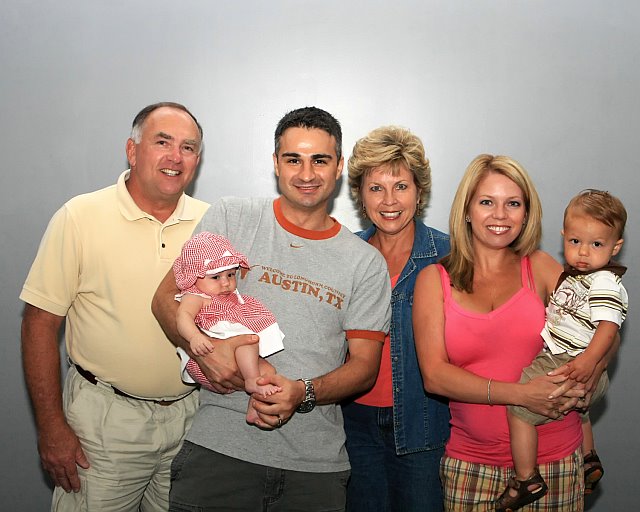 Click your "Back Button" to return to previous page you were viewing.