J. Michael Stearns

After graduation, I attended the University of Missouri-St. Louis where I majored in English and minored in Education and German. I received my B.A. degree and my secondary English teaching credentials in 1971. I was a member of the Missouri Air National Guard from 1972 through 1977.
Although I never taught in the public sector on a full-time basis, I did gravitate toward teaching and have made my career as a private-sector trainer, training program designer and training manager. I worked for the better part of two decades in the hospitality industry and for the past 10 years in technology and computer software.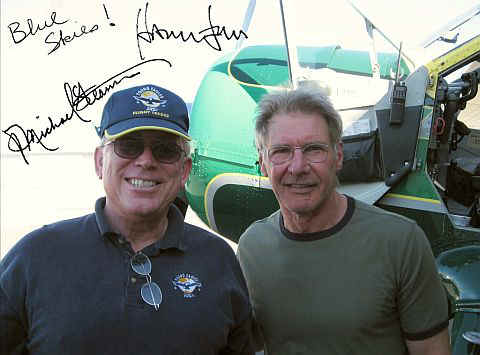 In 1984, I pursued my love of flying and earned my private pilot license. Today, I'm a commercial pilot with single and multi-engine ratings. I also have an instrument rating and hold a current Certified Flight Instructor certificate. The picture you see here of Harrison Ford and myself (I don't think I've changed a bit!) was taken on April 12, 2008. I'm a member of the Experimental Aircraft Association (EAA) and an active participant in the Young Eagles program, which gives free airplane rides to young people between the ages of 8 and 17. Harrison is our national chairman and joined our chapter that day to fly his share of eager participants.
I've made my home in the "OC" in sunny southern California for the past 27 years.
Mike Stearns' 1956 Beechcraft Bonanza