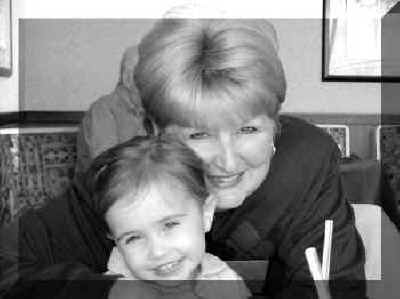 Me & Emma, my granddaughter when she was 4 years old
Me with Mom a couple years ago:
Click to view large:

After graduating high school I attended UMSL as an Elementary Education major. I worked at Zales Jewelers while attending classes. At the end of my senior year I married Warren Speh. He is a 1963 graduate of SLUH and a 1967 graduate of St. Louis University.
We spent the first two years of married life in central Texas where Warren was fulfilling his commitment to the United States military just as the Viet Nam conflict was winding down. Our first son was born in Texas and our second son was born in St. Louis, five years later.
We bought a home in St. Charles County where I was a stay-at-home mom. I was the leader of the Orchard Farm Elementary Mother's Club and initiated and ran the Elementary Writing Center for several years.
During these early years, Warren and I were active members of St. Louis County Rally club and later the SCCA of St. Louis. We participated in monthly TSD (time, speed, distance) and gimmick road rallies and traveled the mid-west to several out of town events. I was the driver and Warren was the navigator.
Our days of road rallying came to a halt when I was in a near fatal car accident in 1990. It was not road rally related. I was sitting still in a construction zone on I-270 during the 370 construction when I was rear ended by a UPS delivery truck, thrown from my car via the back door and had the truck sitting on my chest in the end. Luckily, I landed in the mud. I consider myself very lucky to be alive. By some miracle I had no head or back injuries and came through the healing process with record speed. I had multiple rib fractures, arm fractures collapsed right lung and and unsalvageable spleen. I was on life support for 10 days and in intensive care for 22 days. Until that day, I had never had a broken bone in my body.
We spent a lot of the later years supporting our son's through high school sports and their activities.
In 1992 I signed up to substitute teach at the Orchard Farm School District and enjoyed that for several years until my grandson was born. He was so much fun to play with, I substituted less and less and finally dropped off the list in 2002 when my granddaughter was born.
I have become and avid amateur photographer and now enjoy taking lots of photos and putting together videos for family and friends.
Warren and I spend our leisure time traveling as much as possible, attending our grandson's club sporting events and enjoying life while we can.
We are all lucky to have the time together.
Email: lspeh@charter.net
Click your "Back Button" to return to previous page you were viewing.