NEWS (Updated April 30, 2010)

Bob Durrwachter is back into his music!!! See his new website:
and
Carol (Amelung) & Gary Bibb have a new CD: "Real Love"
"just released a new CD produced by TATE MUSIC COMPANY. We write and record our original music. It is a mixture of Country and Gospel. Tate released the CD on 4/9/10. It is now on Itunes, CD Baby, Amazon and other sights. You can simply key in GARY AND CAROL BIBB on the internet and see information posted by radio stations, ect." per Carol.

Lei Loni Johnson is found May 12, 2009

From Deb, Webmistress: I have been receiving emails from the Pattonville Alumni Association, I do not really know much about the activities that are going on but thought I would put the info up just in case someone is interested:
Pattonville Alumni Association Emails

Roger Creason's new information
New Family Pix from Danny & Carol Carr
New Pix of Art Bell added 12/4/2008
New "Ben" Pix from Debbie Kraus

New Pix from Vince Kircher 11/21/2008.

Link to Jeff Gantt's Bio Updated 10/11/2008 1:00:04 P.M.

Hello Debbie! My name is Phil Conner, and I graduated PHS in 1971. The other day I found a 1967 Echo at an estate sale, and that's where this contact started. My brother Mike did graduate in 67, and I see his name is in one of the lists on your website. He only went a couple years at PHS.
Since I just started PHS in the fall of 67, I mostly recognize the students from 69 & 70 in the yearbook. I do get a kick out of the pictures. As a friend of mine said of his sister that graduated in 68- her senior picture hairdo is scary!
The picture of Marcia Mahoney from L'il Abner is striking! I looked at some of the photos from your 40 year reunion and see that she's still a nice looking woman, and you too.
1971 was the last class to graduate from the old High School on the Rock Rd. I wonder if they saved that stone bench in front of the High School building that has some student council's name on it?
One day earlier this year I found myself driving by the eastern most entrance of the Holman building (I drive by the front on the RR all the time). That really had a profound effect on me, and brought back lots of PHS memories, like congregating at that spot, before school started in the morning. I guess the Holman building was there when you were, but maybe the Mac building was new?
I'm going to hold onto the yearbook and see if my brother wants to have a look at it next time I see him.
Remember the stone bench that was in front of the PHS Senior High Building? On the side of it was written: Student Council 1960. Your 1967 Echo yearbook has a picture of it on page 17. I'm sure it's featured in many yearbooks through 1971 (my class, the last one to graduate from there). The 1970 yearbook has it. Question- Where did the stone bench go?
I've been in touch with the maintenance guy at the new High School, and he says it's not there. I've talked to people at the PHS Learning Center on the Rock Rd., and I have a helpful person named Rich Stephans there, who is supposed to get back with me if he finds any information about the bench. I've been in touch with Elmer Armstrong (PHS class of 1960), and he says he sent out emails to 25 classmates to see who knows what.
I've been on the grounds of the old Senior High, and I don't see it. Well, did the wrecking crew destroy it when the building was taken down? Maybe. Or does someone have it? At any rate, it's a shame. I can't remember exactly what Elmer told me about how the bench came to be, but they might have started raising money to buy it the year before. Most likely the bench was limestone, maybe marble, don't know.
I did take a few pictures on the old school grounds one day, and was surprised that the concrete bleacher seats are still there, behind the building that fronts the Rock Rd. I have attached a picture. It is a picture of the infamous "Smoking Bushes". They've about grown together. As you can see the steps and walk are gone.
Phil Connor PHS '71 (Mike Connor's brother)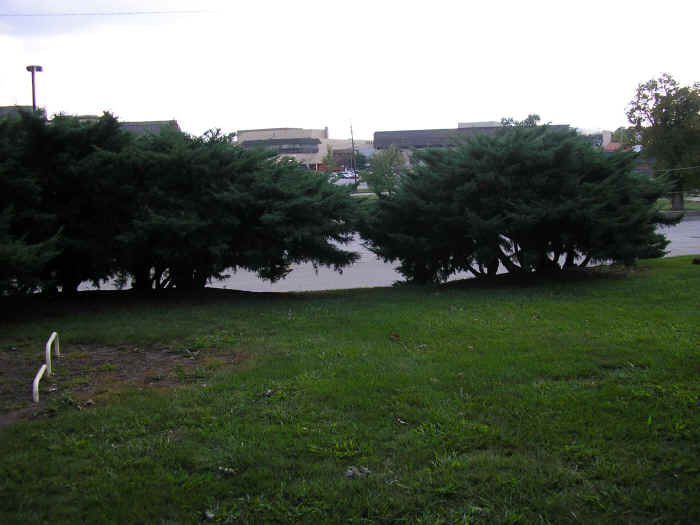 Newly acquired pix of "Brogues" 1967
More on Robert L. Behnken

In the news now, Louis Behnken's son:
NASA astronaut Robert L. Behnken
Way to go!!!

I had to disconnect the Guest Book for a while because someone was putting links on it that appeared to be either porn or virus links...so until I figure out how to keep that from happening, we will just have to do without the Guest Book.

There were a few that had blank CDs from the reunion. Let us know and we can get you another one that works.
Don't forget to also let us know when you move or change your email so that we can keep the web site updated and keep you in the loop.

FYI: If you want to add pictures, add to or change your bio, feel free to email it all to Deb, Webmistress, at DebbieUrbanLPC@aol.com or Pattonville1967@aol.com. Pictures can be attached or copied and pasted to the email...usually.

And...
We had our meeting September 10th.
"REUNION 2012" is being planned.
The next meeting to be announced.

The 40 Year Reunion was a great success!!! Wish you all were there but maybe next time. We have PICTURES to look at and still more coming. Everyone has been praising the way the reunion went and we are all still in the after glow. As it seems, many are planning to stay a little more connected from now on and the committee is already gearing up to plan the next one. We have all decided that a 1 day event was just not enough. The next one will be MORE!!!

Don't forget the "MISSING." We still need to find them, let them know about the web site, and invite them to the next reunion.

To Catch up, read OLD NEWS